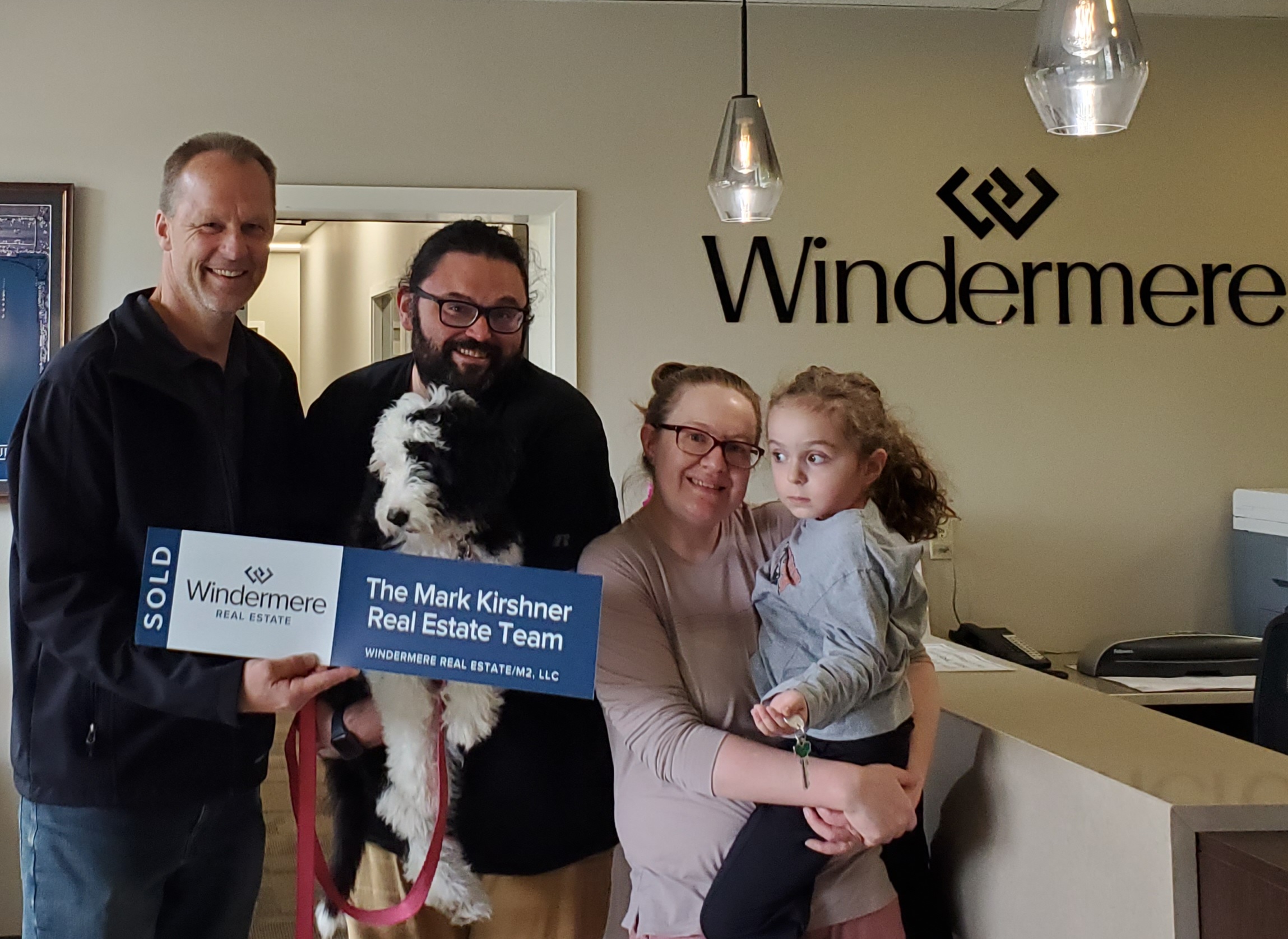 Warm and Informed
Perry Travis created a warm and informed environment for my family to make the right decision buying our home. He always has a kind and honest disposition and always had our best interest in mind! He is fantastic broker!

Ryan & Suzzane R

Market Knowledge & Experience
After 13 years, we decided to sell the home we loved and purchase a new one. We were emotionally attached to our place and it was the first place we'd purchased so we were emotional, novice sellers. After reading reviews, we interviewed several agents. We picked Mark and his team because he came prepared with multiple options for our sale. Much of the uncertainty was eliminated because he'd done his homework prior to meeting with us. His suggestion for pricing our home was spot on as well. We also made it clear that we wanted to do very little work to get ready. Mark pointed us to service providers who made sure everything was ready to go. The house looked amazing and we had to do very little to make it happen. Our home sold in under a week in a market that was slowing down and the price point exceeded our expectations.

We then moved into buying a new home. Surprisingly, this is where we had the most questions. Mark and his team were incredibly responsive and no question was too small. They helped us navigate financing, an offer and closing. We love our new place and are so happy with the service we received. I can't recommend Mark and his team highly enough.
Mill Creek Purchase
Mark was our Realtor when purchasing our dream home for our family. He was extremely professional and talked us through the entire process so knew what to expect. His communication during the entire process was top notch. After the transaction was complete, he stayed in touch with us to make sure our complete needs were met. I have referred him to clients and friends for years and now I have experienced first-hand how good he really is. If you are thinking about listing for buying a home, give yourself a favor and contact Mark!
First-time Home Buyer; Flexible and Great Advice.
We had the opportunity to purchase our first home and couldn't have done it without Perry Travis!
We would highly recommend involving Perry Travis in your home buying experience! He walked with us every step of the way and helped us achieve a life long dream. He was very flexible and worked great with our busy schedules to view potential homes. He made us feel at ease in what could be a very stressful situation for first time home buyers! He gave us great advice but never over looked our desires. We could not be more grateful for Perry and the team!

Downsizing
Mark and Falon were the best. Mark encouraged me to start downsizing and decluttering several months before putting my house on the market. With his encouragement and guidance to be proactive, it was just a little over 5 weeks that my house was sold and closed. They both were always there to check on my progress and to answer my questions and support me. Their follow through was helpful and appreciated. Mark is now in the process of helping me purchase a home under construction. Again, they have been very helpful. I highly recommend Mark and Falon.
Five Star Performance
We had a wonderful experience with Mark Kirshner and Fallon Messer. They mapped out a plan, kept us informed, and helped us to buy one house and sell our house and close everything within a month and a half. Five star performance all the way!
Client Based Service
Mark's knowledge about the real estate market and development is amazing. His service is unsurpassed and he puts customers first. I would definitely recommend him to my friends and family.
Redmond Purchase
We've been looking for a house for about two years and Mark has been extremely patient and helpful the entire way. My wife and I were very busy with work and school and we really fell off the grid for a couple of months, but Mark always made sure to check back with us to see how we were doing and if we had any changes in our plans. He provided valuable insight as to what our current house was worth and really helped us snatch a golden opportunity on an unlisted house being remodeled. Such a find in a hot seller's market was truly a lucky find and we are very grateful that he directed this to us.

Mark was very thorough in prepping our old house for our open house weekend and did everything meticulously. The house looked great on open house weekend and we got a lot of great offers in such a short time. He made sure that we were informed every step of the way and made sure that we closed on the old house quickly so that we can prepare to close and move into our new house.

Overall, we had a great experience, and talking to our friends who've been through the same situation, we consider ourselves very lucky to have found such a great agent through an otherwise fairly draining process.
Out Of State Buyer
Between my move from San Diego and buying a home in Washington, he made the process effortless. My wife and I told him exactly what we were looking for, and even in a slow market, he was patient and comforting through it all. Mark is very knowledgeable about the industry and his communication through the process was impeccable. He has a very calm personality to him and most of all, he listens to what you want. Mark Kirshner is a veteran of the business and the area and I would recommend him to anyone.
Bothell sale and Mill Creek purchase; Patient and Supportive.
We are so very thankful for the guidance of Perry Travis and Mark Kirshner in selling our family home of 34 years. And thanks Falon Messer! They helped us get the process started, supported us during the delay due to Dorothy's cancer treatment and recovery, and finally shepherded the sale of our home to another beautiful family. Couldn't be happier with the results. We love these guys!
Customers First
Mark's knowledge about the real estate market and development is amazing. His service is unsurpassed and he puts customers first. I would definitely recommend him to my friends and family.
Selling and Buying
I found Mark here on Yelp when we were researching for an agent to help us in the sale of our home. I was determined to find the best agent I could and initially was relying on reviews and pure intuition. However, when we met with him it became clear that he was definitely the right choice for the following reasons;

He is thorough. He asked a lot of questions and took notes.

He has a quick wit, and easy charm that let me know he's a good networker.

He is very knowledgeable about real estate, has 14+ years of experience and has built a successful business in real estate.

The process was stressful as it always is when you are moving a large family. Mark was a cool breeze when we were sweating bullets. He kept us calm when we felt like freaking out. His team and network is fantastic from staging to photography to the mortgage lender and everything in between. He always returned calls, kept us in the loop. Our home sold for well over asking price. We were so happy with him we decided to also hire him as our buyers agent. He negotiated hard for us, and continues to have our back even after the closing of our new home. Thank you Mark and Team! I would definitely recommend considering Mark if you are buying or selling real estate.
Calm & Commited
I would definitely recommend Mark! He commits himself 100% to everyone he works with and makes certain that every detail is attended to. He has a very calm demeanor about him which I find to be unique in the real estate world - a pleasurable person to work with making the grueling process of selling/buying a house much easier to endure
Working with Perry
Perry brings the human aspect to one of the largest financial transactions you will ever do. When you work with him, he is listening and asking good questions that help you discover exactly what you need. I trust that he genuinely wants you to have the absolute best experience possible when it comes to your real estate transaction. If you want to have a positive experience, use Perry Travis.
Mill Creek Purchase
Mark found our current home for us! He was a great listener and had great advice. we took over a year to find our home and it is such a blessing and perfect find! Mark never pressured us, he just guided our search and when it came down to the paperwork and details he worked everything out so smoothly! If we ever move Mark is our first call!
Thanks Mark!!!
Smooth Sale
Mark is superb! I recommended several people to Mark, and they were all well-treated and all raved to me about their personal experience with Mark and his team. They had nothing but complimentary things to say about him, and he made the home-selling processes as smooth as possible!
Everett Condo Purchase
Perry did an excellent job helping us find our dream home. He worked with us within our price range, did not pressure us, and worked weekends for us. I highly recommend Perry to anyone looking for a new home.